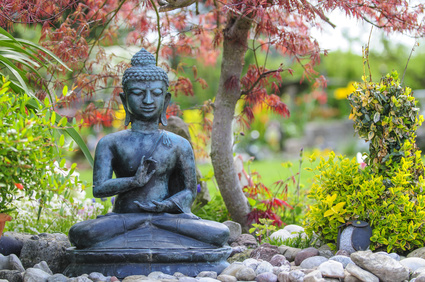 Do you occasionally wish to take a break from everyday life without having to book a costly holiday spot and having to travel too far to your favorite place? Then transform your garden into a wellness oasis or create your own wellness area in a corner of the garden. There you will feel – protected from prying eyes – soothing sun rays on your skin, splashing in the water or having your body massaged with a powerful water jet from the modern massage nozzle.
You grill with friends or just read a good book. You feel completely at ease and recharge your batteries. In the following sections you will learn how to create a wellness garden and what you need to consider. You will also receive a few ideas for small changes that you can implement immediately.
Creating a wellness garden Tips with little effort
Before you stop reading this post because you are afraid to spend a lot of time, effort and money investing in a wellness garden, sit back and relax. Because there is nothing else in a garden of relaxation.
A wellness garden does not have to be finished in one day. It can grow gradually. Even your current garden can be significantly upgraded with small innovations that let you express your creativity. From now on, nothing stands in your way to put your feet up and maybe read a garden reading that inspires you to further transform your garden.
How about the following examples? Have you ever thought about the benefits of a large garden if you have to work in it for hours? In the meantime, other hobby gardeners always find time to meet friends and relax. Follow them.
Tip 1: Reduce your gardening work
By restricting yourself to cultivating easy-care crops and choosing only the species that you really like, the time spent on gardening is reduced. This applies to both the ornamental plants and the fruit and vegetables.
Some people relax while mowing the lawn. If you are not one of them, then convert your lawn into a flower meadow. You only need to shorten this twice a year.
Container plants that require a lot of care are replaced by easy-care perennials. These generally include native species that have long adapted to the local conditions. You need less fertilizer, less water and at most a light winter protection. Especially not in the cold season they have to be brought into the house.
Don't you want to do without fragrant plants in the terrace bed? No problem, it's best to choose herbs that exude an aromatic aroma. These include Mediterranean plants such as lavender, thyme and oregano.
If you need anything from them in the kitchen, cut off a few branches and get back to the house quickly. Even when preparing to cook, you save time because you don't have to cross the entire garden.
Plucking weeds between pavement joints is a particularly troublesome task in the garden . Did you know that you can alternatively achieve a visually appealing covering with gravel, bark mulch or grit as part of the garden path design ?
Place a fleece under these materials. So no weeds can germinate in your path from below. Garden paths with natural materials also look attractive. If the constant bending over in the garden occasionally gives you back pain, choose raised beds.
Apart from the fact that you can harvest in them much earlier, you save yourself the frequent fertilization during the growing season. The lower layers in the raised bed gradually rot, so that they release their nutrients to the useful plants.
Tip 2: Create privacy
You can also create privacy in your wellness garden by blocking out extraneous looks. Nothing disturbs relaxation in the garden as much as curious neighbors or strangers who pass by the garden fence. By installing privacy screens in the garden on the terrace and next to the seats , you can enjoy your garden just for yourself. As an alternative, there are also protective ornamental shrubs .
Trellises and pergolas can be greened so that they appear even more natural and have an additional benefit. Did you know that vertical gardens are in vogue right now? You can even quickly convert the trellis, a fence element or a vertically positioned Euro pallet into one.
Attach planters in several levels, which you can stock with annuals, herbs or perennials that cover the ground. Or use small types of fruit and vegetables. Then the fruits literally grow in your mouth as you relax on your deck chair.
Tip 3: Use

The water element is part of a wellness garden. It is the elixir of life for many plants and animals and has a calming effect on the human ear and eye. Unless you are head over heels in a swimming pool in the garden and do not want to create a swimming pond, set up a mini pond on your terrace. This can be a halved wine barrel filled with water.
Or use an old zinc bathtub, which you can also use as a simple water treading pool.
Classic elements are small fountains, fountains, water features, water basins or waterfalls as you know them from a water garden . They all have a calming effect and create the appropriate atmosphere in the wellness garden.
Tip 4: Seating
As you are about to transform your terrace into a wellness corner, rethink the nature of your seating. Are they still up to date?
The inclination of comfortable chairs and loungers should be adjustable several times so that you can individually adapt them to your needs. Models that show signs of damage should be replaced for your own safety and for visual reasons. Models made of poly rattan are recommended for the purchase of new furniture for the wellness garden. They look cozy and, unlike real rattan furniture, are easy to clean.
Of course, your garden furniture must not push you even if you linger a while. It is often sufficient to replace the old editions of your garden furniture with new ones. On this occasion, get the matching pillows and blankets in harmonious colors so that you can enjoy your garden in the cooler evening hours with a glass of wine.
Tip 5: Create the mood with light
When it comes to wellness, you are probably also thinking of a cozy lighting mood. Light makes a big difference, especially in wellness areas. It should never be too bright or bright, but rather take a subtle and calm shape.
Lanterns and garden torches, for example, are quickly set up. Lanterns and garlands that you attach to the terrace roof or hang in the trees are visible from afar. They are among the cheapest options to set bright accents in your wellness garden.
Modern smart home lighting can be controlled using a mobile phone or by voice, and you can also immerse yourself in the desired mood outdoors in the garden with clever color changes. Light tubes, outdoor floor lamps or floor spots with dimming function are ideal here.
Large-scale wellness garden project – redesign with style
If you only appreciate the advantages of a wellness garden, you will gradually want to tackle larger projects and redesign your open space with style and creativity. Some wellness gardens look nothing like this, but are designed to have all the functionalities and amenities of such a garden. We have put together a few ideas for you here that represent useful wellness objects in every garden.
Idea 1: Wellness garden house

They include, for example, the wellness house, which depending on the equipment you can use as your own garden sauna or on weekends for overnight stays.
Treat yourself to a little luxury and think about how you could perhaps transform an old garden shed . Do not put discarded living room furniture in it, but think functionally. What should your garden shed offer you? Perhaps you want to use it for office work during the transition period to enjoy the view of the garden from a beautiful perspective.
If you've never heard of the health benefits of a hay bed, just give it a try. Obtain enough organic hay that contains as many different wild herbs as possible and either take it with you to warm it up in your own sauna or put it in the oven for a while.
Then pack it as a thick layer on a comfortable lounger, which you can easily clean afterwards. Wrap yourself naked in a bath or linen towel and lie in the middle of the hay. Enjoy the warmth as well as the rising essential oils. You will feel how you become calmer and how stubborn tension in your muscles is loosened. Afterwards you feel fitter and more balanced.
Idea 2: Pool or swimming pond
If you sweat profusely in the sauna, you want to cool off afterwards. A pool of water or a swimming pond is a good way to do this. If it is too difficult for you to moor, hire a specialist company or use a plastic swimming pool that you set up in your wellness garden. Depending on the nature, it can last outside all year round or you have to bring it in before the first frost to keep it dry.
Idea 3: Garden light brings mood

In order to bring out the highlights in your wellness garden , you can position spots so that they are illuminated. Furniture with integrated lighting elements or illuminated flower pots simulate a lounge atmosphere in which you feel like you are in the outdoor area of ​​a hotel.
White flowering plants come into their own in the evening because they shine by themselves against the dark background. Some species also have a bewitching scent as soon as it gets dark. These so-called fragrant night bloomers include the oleander, the angel's trumpet and the white types of lilies. Let yourself be seduced and enchanted every garden year.
Idea 4: Outdoor jacuzzi
On the other hand, if you feel more comfortable in the warm water and want sparkling baths, then the outdoor whirlpool (jacuzzi) is the right purchase for you. Not only the massaging water movements contribute to your recovery. If you wish, additional devices such as colored light elements, neck supports and integrated music systems create a relaxing atmosphere in which you can let your mind wander.
In most whirlpool models, all additional elements can be conveniently operated using digital panels. So you don't need to get out of the water unnecessarily often. Smaller whirlpool models with an average diameter of 150 centimeters are even suitable for the terrace, where they take up little space.
The best thing is that you can leave the outdoor hot tub outdoors even in winter. Covered, keep it clean until the next bathing season. You must of course drain the water beforehand.
The jacuzzi can be placed on a wooden plank to emphasize its special position.
Idea 5: garden accessories
With a few small gimmicks, such as a Buddha statue, stone columns or marble figures, they bring additional wellness flair to your wellness garden . Place them discreetly and not too present and do not overload the relaxation area unnecessarily. Less is more here.